When There Is A Pop
July 29, 2009

kink & entertainment
July 30, 2009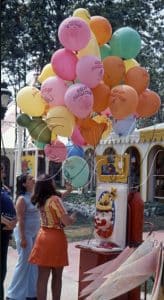 Ok, so I did something yesterday afternoon that I haven't done in a long time – I went for a walk in the rain. Kinda corny, I know, but there's nothing like a stroll in a warm, summer's day rain shower.   I had forgotten how much I enjoy it.  The way the rain falls silently on my face; the way my wet clothes cling to my body; the way the air feels charged with energy, sending a tingling sensation throughout my body; the way the water splashes up my legs when I jump into a puddle.  Not a bad way to spend an afternoon I'd say.  Ah well, maybe next time I decide to go for a leisurely stroll in the rain, I'll bring one of my big balloons along for some extra fun *wink*.
For the most fun you will ever have with balloons call 1-877-261-0599.
$1.99/minute (10 minute min.) + $2.50 connection fee.
18+ Billed as Madison Enterprise. For your entertainment, only.