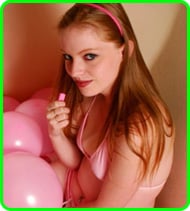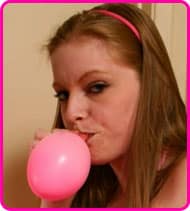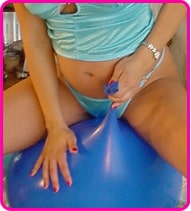 INFLATION :: RUBBING :: STUFFING :: RIDING

I'm Jenny and I love the little balloons. I love blowing them up one after another although it always gets me out of breath so I guess if you want to hear huffing and puffing, I'm your girl. Stretching the balloon out, blowing it up, tying it off and hearing that last *snap* as the rubber rolls off my finger is such as satisfying ritual.

My fantasy is a room full of balloons for me to roll around in. Even if I only have one balloon I just want to rub it all over myself. There's nothing better than the squeaky sound of a balloon squished into the palm of my hand while I rub it all over my body especially on my tits and yes, even between my legs! The static electricity is definitely a turn-on.
,br>I also really like stuffing balloons in my clothes and I like to feel them squished against me so a one-piece bathing suit or a leotard are perfect for stuffing full of little over-inflated balloons. Yes I'm a very naughty girl especially when it comes to balloons so let's have some fun!

Call Jenny at 1-888-430-2010 for inflating balloon fetish phone sex now.

$1.99/minute (10 minute min.) + $2.50 connection fee.
18+ Billed as Madison Enterprise. For your entertainment, only.
June 5, 2022
Yay!  Finally, the weather is nice enough to play in the pool.  And I have been waiting impatiently to get all my pool toys […]
April 3, 2022
Now that it's getting warmer out, we can have some outdoor pool parties.  I know all about your pool toy fetish and now you […]
February 27, 2022
Oh boy, do I have some balloon fetish stories I could share with you!  The feel of an inflated balloon rubbing all over your […]