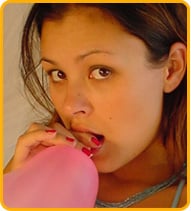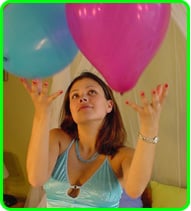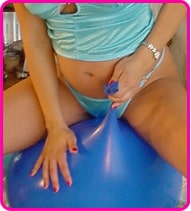 INFLATION :: BOUNCING :: RIDING :: DEFLATION

Hey, I'm Melissa. I'm just a girl who really likes balloons. The bright colors, the way they float, the way they bounce, the way they feel when I rub them against my skin… I love everything about balloons. Balloons make me feel so happy so I have fun with them whenever I can. Having my page up here on BalloonFetishPhoneSex.com is awesome because I get to talk with guys who love balloons as much as I do.

I want to know what turns you on most about balloons. For me it's the feel of a big balloon between my legs… squeezing it between my thighs as I ride it. I want to know which color you pick first when you have a new bag of balloons. For me it's blue. I want to talk to you while I play with my balloons… why don't you get yours out too?

I love tasting the latex on my lips each time I lick them as I blow up a balloon. Sometimes I stretch the neck out and tie the end off but other times I like to just hold it tight while I bounce and ride the balloon. I like to let a balloon slowly deflate. This is the best with over-sized balloons. I love rubbing a big balloon against my soft tits and letting the air gush out in spurt over my face and in my hair.

Call if you want to hear me huffing and puffing to blow up a massive balloon, sitting on it, rubbing against it, and riding it. I'll stretch and pull the neck and let it slowly deflate all over me while you cum. What are you waiting for?

Call Melissa at 1-888-430-2010 for inflating balloon fetish phone sex now.

$1.99/minute (10 minute min.) + $2.50 connection fee.
18+ Billed as Madison Enterprise. For your entertainment, only.

August 1, 2021
Do you have any balloon fetish stories that you can share?  Oh because I certainly do.  There's so much fun to be had with […]
July 10, 2021
Nothing like a fun party with balloons, lots and lots of balloons.  I'm sure lots of you out there have some balloon fetish stories […]
April 23, 2021
Woohoo!  It's spring time and the weather is finally getting warm enough to go play in the pool.  Pool time is the best time!!  […]