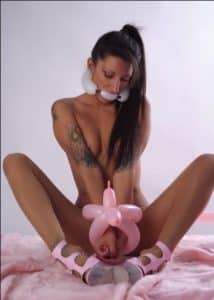 Mixing the love of balloons with other fantasies is great. One of my callers was looking to go in his chastity belt for a longer time. Hmmmm how to decide how many days extra he got. I didn't tell him the reason but I told him to turn on his cam and get his balloons. Then I gave him three minutes to blow up, tie off and then sit and pop as many balloons as he could. I got such a laugh out him running around trying to beat the clock. When he finished I asked him how many balloons he had left in his bag. He had nine. I said ok boy you have nine extra days being locked up. It was terrible because all of that balloon play got him terribly excited.
You're going to be My blow-up boy. Call 1-877-261-0599 .
$1.99/minute (10 minute min.) + $2.50 connection fee.
18+ Billed as Madison Enterprise. For your entertainment, only.