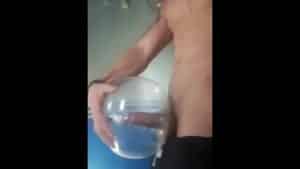 Tony had more than a few vices he liked to indulge in on occasion, but his exhibitionist streak and his balloon fetish were his absolute favorite.  He wasn't shy about what he liked either, though he didn't advertise them with everyone. That's why he was very happy that his tipsy confession at the bar turned out so damn well! He didn't quite recall how the subject of sexual kinks came up, but he wasn't going to question anything, not since he lucked out with such a pretty woman willing to play out his kinks. She likes to watch, and has seen a few clips of looner porn, so she was already curious. After it was obvious how the night was going to turn out, they got a cab back to his hotel, and stumbled their way to his room, groping and giggling the whole way there. They couldn't take their clothes off fast enough, and it took a few minutes for Tony to be able to pull away to get his lube and favorite masturbation doughnut shaped balloon out.
He got that inflated, and a smaller regular latex balloon for Carrie to use herself, if she wanted to try it out. They got comfortable on the bed and started out small rubbing the balloons against themselves and each other, Carrie definitely wanting to explore and experiment with them. A few more balloons had to be inflated so that she could try out how they felt with lube, then baby powder, then dry. She wanted to know what each one felt like on nearly every part of her body! It didn't take long though for things to head in a more southernly direction. Cassie started sliding the lubed up balloon between her pussy lips, and watched as Tony slipped his hard cock into the middle of his balloon. The balloon felt as fantastic as always, but he couldn't look away from what Cassie was doing. It wasn't long before he was pushing a deflated balloon on his fingers, lubing it up and laying down between her legs to eat out her pussy as he played with her clit using his balloon covered fingers. He kept the balloon around his cock, pressing it down against the mattress and fucking it as he played with Carrie. All either of them could hear for awhile was moans and whimpers and the squeak of the latex rubbing against both of them. Tony switched up fucking her with his balloon covered fingers so he could suck on her clit and her legs were bent around him enough to press her heels against his ass, pushing him into his balloon even harder and faster! He tried to slow down, make it last longer, but once he could feel Carrie's pussy squeezing around his fingers as she came, he wasn't far behind her. As good as this felt, he knew they were about to have a long, fantastic fucking night! You like to play like this yourself? Give me a call for some balloon kink phone sex.
Carrie
1-888-430-2010
Click Here to chat with a phone sex lady!
#loonerkink #balloonmasturbation #balloonfetish #balloonporn