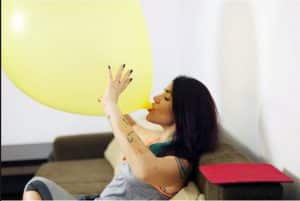 Hello everyone, I thought I would stop by and rave about the fun I've been having with all you sexy balloon lovers out there. It really feels like we are connecting when we get on the phone and blow up balloons together. I loved the big 15″ balloons I got in the mail last month and some of you were even lucky enough to talk to me while I was playing with them.
When I'm riding a big balloon and squeezing it between my thighs my pussy just gets so wet, well, you know 😛 The phone is so good and real until it comes to having you lick my juices off that slick rubber. You wish, right? Well, there's still tons of fun we can have and I've always got a couple of balloons nearby to blow up and have some fun with, so call me 🙂
For the most fun you will ever have with balloons call 1-877-261-0599.
$1.99/minute (10 minute min.) + $2.50 connection fee.
18+ Billed as Madison Enterprise. For your entertainment, only.