Candy Cane
December 5, 2009
Not A Good Fit
December 13, 2009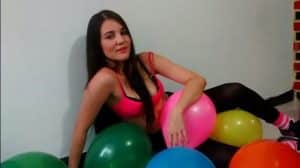 Did you all hear about the Balloon hunt? I would love to go hunting down these huge eight-foot wide red balloons. It kind of reminds me of this awesome thing that we did in school one year. There was a fundraiser and for every $5.00 or $10.00 (I can't remember exactly the amount) you raised you got one balloon. Inside the balloon we put a form that had our school information and teacher's name. So many big beautiful balloons were released at once, and the one that went the furthest (as confirmed by whomever found it and called in about it) won some sort of prize. It was very exciting but I wanted to burst those balloons, but I knew they had to go. We did get o see some that got caught in the trees and went POP. Our balloons weren't that big though, that would have been even better.
You're going to be My blow-up boy. Call 1-877-261-0599
$1.99/minute (10 minute min.) + $2.50 connection fee.
18+ Billed as Madison Enterprise. For your entertainment, only.