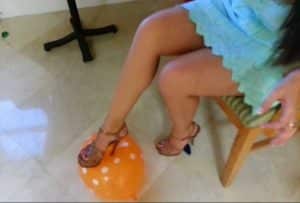 OK, look. I'm on this site because I love stepping on balloons and squishing balloons under my perfect little feet. I like playing with other types of inflatables because I can step on them a lot. I'm not a loving, rubbing kind of girl. I just step on balloons and inflatables like I'll step on you. The moral of the story is that you belong under my wrinkled soles and you are lucky to be there, rolling around with the balloons and pool toys that I make you blow up.
Sometimes something comes over me and I get really fixated on popping overinflated balloons by stomping on them one after another. This must be how Mistress Michelle feels all the time. Most of the time though I like to tease with balloons that have a lot of give. And I want you on your knees, licking between my toes and all over that balloon as I knead it with my toes.
So that's why I'm here. you know why you're here, don't you? To worship my toes and blow up my pool toys! Pick up the phone, get down on your knees, and get ready to serve.
Worship Carrie's feet and blow up her toys, call 1-877-261-0599.
$1.99/minute (10 minute min.) + $2.50 connection fee.
18+ Billed as Madison Enterprise. For your entertainment, only.