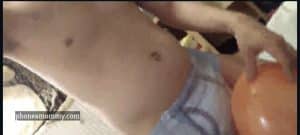 Mommy bought a pack of colorful balloons for her sweet little guy to play with.  Mommy knows how much you love your balloons.  Oh and mommy definitely knows how excited you get when you play with your balloons.
Mommy opens the package and hands you an orange colored balloon.  You quickly grab the balloon and start to rub it against your face and lips, before placing it between your lips to blow it up.  As you exhale filling the balloon, mommy notices something else getting bigger also.
Once you have blown the balloon up as full as you want it, you hand the balloon to mommy to tie.  As you begin blowing up another balloon, you start to moan when you hear the noise of the balloon in mommy's hands as she ties it tightly into a knot.  Mommy's little man just loves the squelch of a latex balloon, especially when it's caused by balloon masturbation.
Soon all the balloons have been blown up and tied.  All different colors and sizes for mommy's sweet baby boy.  Mommy watches with a smile on her face as you quickly strip your clothes off.  You turn to mommy with a questioning look on your face…
Yes baby, go ahead…as soon as the words leave mommy's mouth your hard throbbing peepee starts to leak.  Mommy watches as you grab balloon after balloon, rubbing them up and down your twitching shaft.  Suddenly there's a loud pop as a balloon explodes against your sensitive cock.
As a groan of pleasure escapes your mouth, another balloon pops….mmmmm nothing better than latex sex and a room full of balloons.  Soon mommy's little man is humping every balloon until only one big green balloon is left unmolested and un-popped.
You look at mommy with hunger in your twinkling eyes.  Your hard cock throbbing and dripping.  Mommy nods her head towards you, as you straddle the last balloon.  You tentatively lower yourself to the balloon, feeling it between your thighs, against your bottom and balls.
With a look of animal lust on your face, you begin rocking against the balloon.  Slowly humping it, your cock rubbing back and forth, getting wetter and wetter.  Soon the sounds of squeaking and rubbed latex fill the room.  As the sounds get louder and more frequent, moans and groans begin filling the room as well.
Your breathing escalates, your body trembles, you have a glistening of sweat on your upper lip.  Your head falls back and your eyes glaze over as your hips start moving faster and faster.  Mommy watches as your mouth drops open and you shudder in pure pleasure.
With a spasm of your cock, the balloon is covered with spurts of cum as your balls tighten.  Mommy's little man orgasmed so hard that without realizing it, you squeezed your thighs so tightly that the balloon explodes soon after you.  You drop to the floor amongst all the popped balloons, your breathing haggard.
If you would like to hear more of mommy's balloon fetish stories, give mommy a call and let her make you explode also.
1-888-430-2010
Click Balloon to chat with sexy balloon mommies!
#balloonfetishstories #latexsex #balloonmasturbation