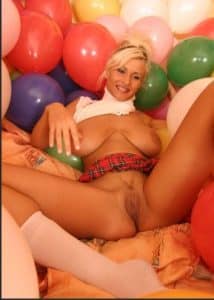 This is Mistress Michelle, here to introduce myself to all the submissive little balloon bitches out there. If you want sweet, go talk to Melissa. If you want nice, chat with Jenny. If you want a bratty girl, call Carrie. I'm here for the hardcore subs that are ready to SERVE. Do not mess with Me. When you call Mistress Michelle be ready to blow…
you are going blow up My balloons. I have an insatiable need for taut, over-inflated balloons driven by my love of popping. What will it be today? A long, slim cigarette burning a hole in that precious latex? My pointy nails digging in and making each balloon BULGE until it finally gives? I'll be laughing hysterically as you wince at each threatening gesture, and flinch when I finally break through that thin fragile skin and there is a loud POP!
Now you know what to expect. Take a deep breath and pick up the phone.
you're going to be My blow-up bitch. Call 1-877-261-0599.
$1.99/minute (10 minute min.) + $2.50 connection fee.
18+ Billed as Madison Enterprise. For your entertainment, only.