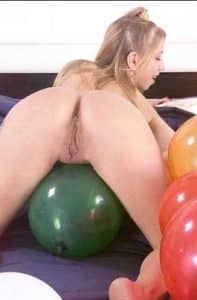 I had a couple of calls last week from your classic balloon popping bitch. To his credit, when he called he already had his balloons blown up and ready. Good. I can get impatient and I wasn't in the mood to sit around listening to him blow up the massive balloons he had there.
So he calls me up, balloons inflated, and asks me what he should do. Well that's easy: entertain me, bitch. I told him to whip it out and start fucking those balloons. He couldn't get it out fast enough! There's nothing I find more amusing then a balloon fetish bitch following my orders and making a total fool of himself. I laughed my ass of while he stuffed his dick between two little balloons, then dry humped a big one.
The very best part, of course, was the popping because I made him push his dick right deep into the balloon before making him pop it, over and over, for about a dozen balloons, big and small. That's gotta sting! But hell it was funny to hear him yelp, LOL. Nothing outstanding about this guy… like I said, classic balloon bitch. I like outstanding truly, it's the old stand-bys that got us here in the first place. I love laughing at balloon fuckers.
If you want to amuse Me, and you DO, then blow up some balloons, get out a nice sharp pin, and call Me. your job: entertain Me.
you're going to be My blow-up bitch. Call 1-877-261-0599.
$1.99/minute (10 minute min.) + $2.50 connection fee.
18+ Billed as Madison Enterprise. For your entertainment, only.