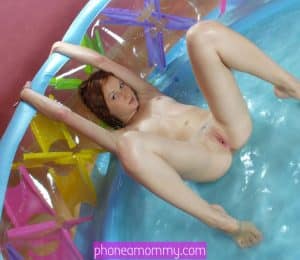 I am inviting my girlfriend over later to have a nice time with me in my pool. She thinks that she is coming over so we can just get our feet wet in the water but I have other plans. I have been attracted to her for a fucking long time and I never had the guts to tell her.
Whenever she would have issues with her boyfriends and she breaks up with them, I am always the one that is nearby to be the shoulder that she needs to cry on.
So this is why it is important that when she comes over to see me today, that she has a very nice time and she enjoys herself so much that the sorrows of the past, with her ex-boyfriends will just melt and wither away.
I will also share with her for the first time that I have an inflation fetish. I know that there are times in which she may have suspected it as she did mention one day why I always keep balloons around me, but she could not quite figure out exactly what it was.
I was scared to tell her back then, because I did not know how she was going to react. And when she comes over she will also know that I have a pool toy fetish as well because I have inflatable pool toys in such an excess that it makes it look like I have more inflatables than actual pool water.
I heard my doorbell ring and I was able to respond to her from my phone's app and tell her to walk to the backyard and she did. She was shocked to see me enveloped in so many inflatables.
She laughed at first and then she noticed that I intentionally undid my bikini top and started rubbing my nipples against the inflatable. I threw my head back and my eyes rose to the back of my head and she was standing there, I assumed in shock. I felt as though once I opened my eyes she would still either be standing there or she would have raced off.
But, when I opened my eyes, I was surprised to see that she took off her entire bathing suit and she was naked,  while on her back and she was rubbing a small inflatable against her creamy, wet and delicious looking pussy! I ogled her as I molested her body with my eyes.
The way she manipulated the small inflatable got my cunt to ignite on fire. I wanted to fuck her, and I was determined to do so and enjoy it. So, I hurried over to her from my pool and told her to open her sweet pussy and I started to taste her cunt's juices from the inflatable that she used to play with her juicy pussy.
She tasted like a goddess, such sweet cunt juices. I lapped the small inflatable clean and then I directed my mouth straight to her cunt so I could suck it. She grabbed nearby inflatables as if they were pillows and she squeezed them every single time I jabbed my long tongue into her cunt.
Then she turned over and got on an inflatable on her hands and knees at which point I spread her ass cheeks with the palms of my hands and her fingers and I voraciously lapped and sucked her sweet asshole. We had so much fun we fucked for what felt like hours as we hopped from one inflatable to the next.
And after the time was spent, when she got home, that very same night we connected on the phone and had the hottest inflation fetish phone sex recalling what we did a few hours earlier.
Would you like to also experience this hot and sweet inflation phone sex with me. Then don't delay any further,  give me a call right away. I am waiting.
Carrie
1-888-430-2010
Click Here to chat with a phone sex lady!
#loonerkink #balloonmasturbation #balloonfetish #balloonporn #blowandpop #balloonfetishphonesex #inflationfantasy #balloonfantasy #looners