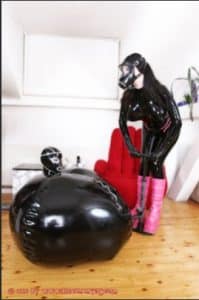 Some of these bitches, I tell ya: pathetic, jerk-off losers. I'd love to laugh and spit in the face of every balloon bitch reading this, busting your balls to blow those balloons up harder! faster! till your dick is standing straight up and your heaving to catch your breath. Most of you retards blow a lot of hot air. Might as well put it to use. So you are here to cater to My balloon popping fetish and you will do as I say while I stand over you, ordering you and comanding you to blow it up like the balloon slut that you are. Heave, ho!
you're going to be My blow-up bitch. Call 1-877-261-0599.
$1.99/minute (10 minute min.) + $2.50 connection fee.
18+ Billed as Madison Enterprise. For your entertainment, only.