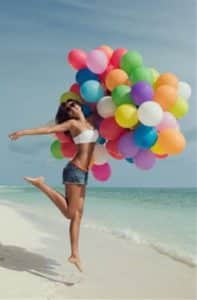 I love summer! No seriously, like, I really love summer! Anyone with an inflatable fetish like me knows that summertime means the living is freaky! I've been going to the beach every chance I get.
Checking out all the inflatable toys is the best part. Everything from beach balls to rubber rafts, and I still can't get enough. I always think about what I would do with those toys at home given half a chance although there's nothing like standing on hot wet rubber at the beach.  I've got lots of stories about the ways I have gotten off at the beach with inflatable toys… curious?
Of course I also love showing off my feet and foot guys totally come out of the woodwork at the beach. I watch them watching girls feet and then seduce them with my little toes. It's so easy in the summer because guys are weak around girls in bikinis. That's just the way it is, and that's why I love summer.
Worship Carrie's feet and blow up her toys, call 1-877-261-0599.
$1.99/minute (10 minute min.) + $2.50 connection fee.
18+ Billed as Madison Enterprise. For your entertainment, only.