Full-Body Balloon Massage!!
April 28, 2018

Balloon Popping Is My Fetish!!
July 20, 2018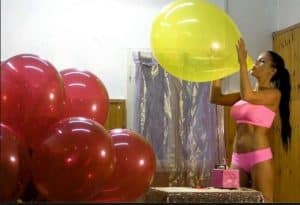 Can I tell you all about my balloon fetish fantasy? Are you sure its ok, its pretty kinky to think of getting myself off on a shiny balloon while you listen on the phone. Oops! I said way too much, how embarrassing. You must think I'm such a phone sex slut for looners… and you're not wrong! I just get so turned on by big, overfilled balloons that look ready to pop! Especially when I know there's a big, thick cock being stroked to my balloon fun, telling me just how to rub it across my perky pink nipples and dripping wet pussy. Mmm it feels so good, squeaky and full, I can't help but start to squeeze it between my thighs, teasing you threatening to pop it before you say so, I can feel my orgasm building more and more, I'm so ready to have a big looner orgasm for you, baby!
1 888 430-2010
#looner #phonesex #balloonsex