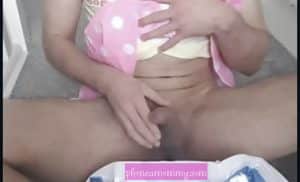 Nothing like a fun party with balloons, lots and lots of balloons.  I'm sure lots of you out there have some balloon fetish stories you could share with me.  How the sounds of the balloons rubbing together make you so wet.  The smell of latex making you throb and drip.  Pool parties and birthday parties causing you to get instantly aroused.
With a special party, you don't have to worry about anyone noticing how turned on you are, everyone will be equally as horny.  A little latex sex might just be what everyone needs.  Unwind and let go at the party.  Indulge in your desires and enjoy yourself.
Ooohhh and I just love balloons myself, can't get enough of them.  The smell, the taste, the surprise when one pops.  I love rubbing them all over, especially between my legs and over my hard nipples.  My pussy gets so wet when I play with balloons.
And with balloon masturbation, I can enjoy the feel of the latex rubbing my soaked pussy.  As I ride balloon after balloon covering them with my pussy juices.  There's nothing better than a good balloon fuck!
Mmmm you can help me blow up balloon after balloon, the more we do, the more wet I get and the harder you get.  I can't wait to lay back and feel that balloon being pushed inside of me and then the feel of your breath across my thighs as you lean in to blow it up… inside of me!
Oh that's it, blow up that balloon nice and big and then start sliding it in and out of my drenched pussy.  Don't be gentle, it's okay of it pops inside of me.  When that balloon bursts so will I.  I'll squirt all over you and the broken balloon.  My squeals will drown out the sound of the balloon.
Now it's your turn, I lift the cute little latex outfit you're wearing and sit you on an inflatable.  As I pump air into the floatie, I also pump your cock.  Sliding my hand up and down the length of your growing shaft, the special part of the tube just barely pushing between your cheeks.  I want to stretch your tight asshole with the inflatable, then straddle you and ride your dripping cock as you bounce on the toy.
The faster and harder I bounce, the louder you get.  Soon you are holding my hips, pressing deep inside me, as you start grinding down on the toy, feeling it go deeper.  You grab one of the long balloons we blew up earlier and you start sucking on one end, pushing the other end into my mouth.  I shudder first as I start squirting all over your cock, soon feeling you cum hard deep inside of me.
We slump against each other, hearing the sound of the balloon rubbing against our drenched bodies.  Mmmm I can't wait until we have our pool party.  My pussy is already twitching in anticipation.  Is your cock?
1-888-430-2010
Click here to chat with a balloon babe
#balloonfetish #fetishroleply #latexfetish #latexsex