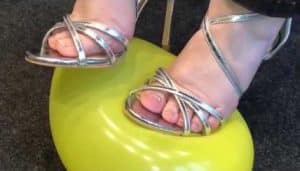 These shoes were made for balloon destruction. So much pleasure can be derived from feeling a puffy balloon under my heavy shoes and then finally popping it with my heel. When a sub wants the balloon to make it and I get to tease him long and hard with the squishing of it under my boot, I am a happy Mistress. Or for my sissy subs making them wear pointy heels and pop them at my order. I just enjoy combining shoes and balloons.
You're going to be My blow-up boy. Call 1-877-261-0599
$1.99/minute (10 minute min.) + $2.50 connection fee.
18+ Billed as Madison Enterprise. For your entertainment, only.