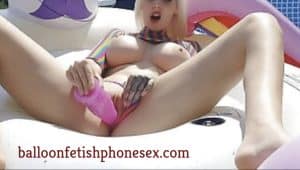 Yay!  Finally, the weather is nice enough to play in the pool.  And I have been waiting impatiently to get all my pool toys out and have some fun in the water.  I have such a pool toy fetish, that just the thought of them gets my pussy as wet as the pool.  I just love to bounce and rub on all my inflatables.
With an inflation fetish like mine, any and all sizes are great.  I can sit on them and float in the pool while I rub my pussy in the warm sunshine.  Soon I can't help myself and I start fucking myself with any toy available.  My moans can be heard and the more excited I get, the more noise I make.  Soon I will be splashing around as I cum hard over and over.
I slide my body into the cool water to calm my raging hormones.  As the water laps around me, I reach over and grab a floatie.  Then I slide it between my legs and start all over again.  I love the feel of the latex against my skin and the sound of the plastic as it rubs against my drenched pussy.
Soon I'm humping like crazy and getting closer and closer to exploding.  I wade to the shallow end and sit down on the floatie, the water to my chin as I ride hard.  Water splashes all around me as I wiggle and grind harder and faster.  My breath coming out in ragged gasps as I get closer to another orgasm.
I throw my head back and groan in bliss as I squirt in the pool.  I crawl out of the pool and lay exhausted in a chaise lounge to soak up some sun.  As I bask in the warmth, I start to feel tingly all over.  My pussy just can't get enough, I look around and find an inflatable toy for ring toss in the pool.  Perfect size to fuck myself with.
I grab it and rub it against my aroused pussy.  I spread my legs and start sliding it in deeper and deeper.  I start fucking my insatiable pussy fast and hard.  Making myself squirt so hard and so far, it looks like a waterfall.  I just love summertime fun in the pool and pool side.
There's so much naughty fun to have with inflatable pool toys.  And so many different designs and sizes.  From arm floaties to rafts, I like to fuck myself with them and I just love to be fucked on them as well.  I just can't get enough, that's probably why summertime is my favorite time of the year.
For some fetish phone sex, call today and let's play!  I have an idea, let's fuck each other so good, not only do we pop with excitement but so do the toys.  Popping inside us, causing us to cum even more and even harder.   The fun doesn't ever have to stop, so let's get pop, pop, popping.
1-888-430-2010