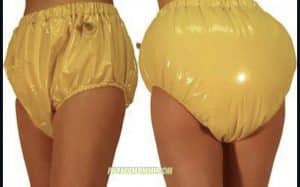 Oh nothing better than warm weather and a refreshing inviting pool to relax in.  And mommy has lots of fun toys for us to play with in the pool also.  Mommy knows how excited you get when you see all the floaties.  A little one with a pool toy fetish, makes for a very fun summer.
Mommy can't help but smile and giggle when she sees you playing in the pool.  No inflatable is safe from such a horny little one.  You start out in your swim diapers and inflatable swim pants and soon you are naked and riding all the toys.
When mommy hears the squeak of plastic as it rubs over wet skin, mommy knows that the fun has really started.  Mommy loves how comfortable you feel around mommy that you do not hesitate to enjoy yourself.  An inflation fetish isn't exactly something you see every day.
The sun shining down, feeling so warm against your water kissed skin, makes your arousal even stronger.  And when you're a very horny little one all alone in a pool with so many fun looking toys, one can't but help themselves.  That pool raft has so many inviting looking projectiles sticking up all over it mmmm.
As you mount the raft and start to rub yourself against it, mommy hears a moan escape your open mouth.  You begin to gyrate faster and faster, causing the water in the pool to splash against the sides.  You are rocking so hard now that the only sounds heard are your whimpers of pleasure, the crashing of the waves you are causing and the squeak of the plastic raft as you bounce faster and faster.
Nothing beats the smile mommy sees spread across your face as you continue to hump your inflatable raft.  And luckily you are in a pool of water…no evidence will be left of your messy play time with the pool toys.
Mommy watches as you move from spot to spot on your raft, your breathing quickening as your eyes close and your back arches.  After a series of pants, gasps, moans and guttural groans, mommy watches as you squirt all over the raft.  Your body slumps and you lay their catching your breath as the sun dries you of your creamy orgasm.
Mommy couldn't help herself, and while she watched you ride your toys, mommy slid her hand into her bikini bottoms and fingered her pussy.  Mommy bit her lip to keep from distracting you while she rubbed her clit and came all over her fingers.
Mommy just loves pool time with her little ones, never a boring time to be had when inflatable pool toys and water drenched adult babies.  Now we lay on the pool deck, satiated and soaking up sunshine.  Just imagine a whole summer of pool fun.
Do you have a fetish you would like to share?  Mommy would love to hear all about it and experience the intense pleasure of what gets you all worked up.  Nothing better than some fetish phone sex to help us all relax!
1-888-430-2010
Click Here to chat with a fetish loving mommy
#balloonfetish #inflationfetish #pooltoyfetish #fetishphonesex #abdlfetish