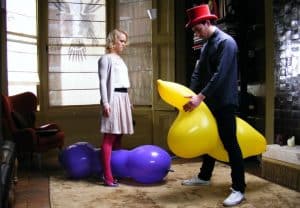 Jenny says she wants everyone to get to know the balloon babes and it's my turn so here I am… I guess I'm a little different from the other girls here. I'm really not into popping, like, at all, but I put up with it around here because all the balloon sex talk gets me wet.
What am I into? I love BIG balloons… I love feeling a little light-headed as I blow up a big round balloon… I never overinflate and I like to hold the neck of it instead of tying so that I can let the air out without having to pop it. I can play with the same balloon for hours, blowing it up, riding it, letting the air out, and then doing it all over again.
Other than the balloon thing I'm just a regular girl. I work in an elder care home and I live with my sister and her boyfriend. They party a little more than I do but it's nice to be around family and we have some of the same friends so people come over and we hang out together. No one really knows about my balloon fetish except my ex boyfriend and he got pretty into balloon sex too so I don't think he will ever tell 🙂
I love balloon sex stories so call me and tell me about some of the naughty things you like to do with balloons and I'll tell you some of my balloon stories too. I'm generally pretty nice and sweet but if there's anything that brings out the dirty little slut in me it's balloons. Wouldn't you like to meet her?
For the most fun you will ever have with balloons call 1-877-261-0599.
$1.99/minute (10 minute min.) + $2.50 connection fee.
18+ Billed as Madison Enterprise. For your entertainment, only.