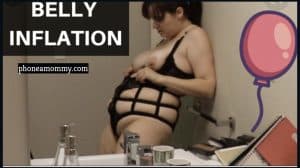 Do you have any balloon fetish stories that you can share?  Oh because I certainly do.  There's so much fun to be had with balloons, from blowing them up to popping them.  And let's not forget all the fun in between.  And it doesn't have to be just balloons, any fetish involving rubber, plastic (PVC), and/or latex.
Just the thought of latex sex gets me all worked up.  I just love dressing up and there are all sorts shiny fun we can have.  Besides the boots and skin tight clothes, all the mask selections make it even wilder.  The though of being taken by a well hung masked man gets my pussy soaked.
As much I enjoy dressing up and dressing you up, nothing beats my inflation kink.  The idea of blowing you up like a balloon and watching your dick and balls fill and stretch, getting so big they look like they are about to pop… oohhh makes my pussy swell with excitement.  Come suck on mommy's breasts and watch them grow bigger and bigger, your lips barely able to hold on to the expanding nipples.
Or better yet, bend me over and as you penetrate my pussy, you pump me full of air, causing my belly to get bigger with each thrust.  Mmmm the fun we can have.  Mommy still can't get the image of wrapping my mouth and lips around your cock and blowing.  Talk about the ultimate blow job!  Hehe.  Watching as you inflate like a penis balloon, blowing you up until your cock is huge and round.
Just know you're not a loner when it comes to being a looner.  Mmhmm I love all that too.  It will always be party time over here.  A never ending party of fun.  So embrace your kinky side and enjoy any and all fetishes.
Let Melissa show you a good time.  You won't be disappointed I promise.
I have a closet full of all different sizes and colors of balloons, I have every pool inflatable you an imagine, and another closet just full of rubber, pvc plastic and latex garments for our pleasure.  Enough for everyone!  And plenty of masks to keep us all safe during this pandemic lol.
We will have a non-stop pleasure party, wet and squeaky.  And everyone will be cumming over and over.  And begging for more.  And summer time is perfect for the naughtiest pool party imaginable.
Give me a call and lets discuss all the fun we can have, and tell me all your yummy ideas when it comes to perverted wild enjoyment.  An amusement park of pleasure.   That will have you coming back for more and more.
Unusual fetishes are great to explore, so if you have always wondered or have always been curious, then wait no longer and call.  And go on a wild adventure, one that you never even imagined possible.  And of course all those that you have imagined hehe.
So call now and let's get started!
1-888-430-2010
Click here to chat with a fetish lover
#inflationkink #balloonfetishstories #latexsex #fetishroleplay