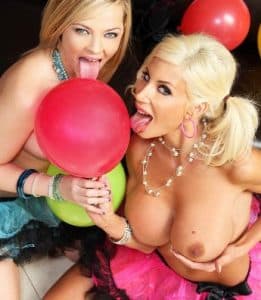 Hey it's Carrie. My turn, I guess… I had an awesome call last week so I'm going to tell you about that.
Let me tell you, I could hear this guy groveling before I had the phone to my ear. Yeah, he was that pathetic. He tells me he's down on his knees and he wants to lick balloons while I squish them, and him, under my feet. I told him I'd end up popping them in his face, hahaha, but at least he knows his place–on his knees. As for being under my feet…pfft, he's barely worthy of that privilege. Look at those wrinkled soles!
I made him blow up a bunch of balloons and then I teased him and laughed at him for being such a loser. He was lucky I was in a good mood because I made the little rubber-fucker hump those balloons which must have felt pretty good. It sounded like he came pretty hard, anyway.
If you like to be teased, humiliated, and laughed at, definitely call me. You might get to have a little fun too.
Worship Carrie's feet and blow up her toys, call 1-877-261-0599.
$1.99/minute (10 minute min.) + $2.50 connection fee.
18+ Billed as Madison Enterprise. For your entertainment, only.