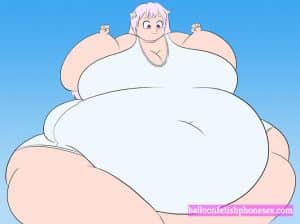 I've had a balloon inflation kink for a long time, ever since I was a pre-teen, and there is just something about that stretched out latex that always gets me going! I've done a little reading about other inflation fetishes, body inflation and the like, but it never did anything for me. Not until recently, anyway. I have always loved everything about inflating balloons, from the strain in my lungs to the squeak of the stretched latex as I rub it against my skin, none of that has changed! But I had a dream about body inflation that had me waking up with a soaking wet pussy, and it only took a few finger flicks against my clit to have me coming hard. I honestly can't think of any wet dream that I have ever had that turned me on so much. I definitely can't think of why I had that particular dream, but I'm not mad about it, that's for sure.
In the dream I was stick thin, nearly no boobs to speak of, hips like an ironing board, and an ass like a sad pancake. I remember standing in front of a full-length mirror, just complaining about how I wanted to be a bit thicker, when I remembered that I had just bought a brand-new air pump from Home Depot (which I actually had in reality, so that might be where the dream came from!), so I picked up the mirror and took it with me to the garage. I got busy setting everything up, leaning the mirror against the wall once I was in there, pulled out the pump and plugged it in, making sure it had the right nozzle on it, so excited that my hands were shaking! I placed the nozzle tip between my lips, wrapped them around it as tight as I could, and switched the pump on. For a minute nothing was happening, and I thought about stopping, thinking about silly this was, but then I started to notice something in my reflection. It was working!
First my breasts started to grow till I was able to cup them in my hands, my nipples getting larger. My thighs started to plump up, getting round and lush, and when I turned sideways my ass was doing the same thing! I got to the lushness point that in real life I would have more than happy with, but I wanted to keep going in the dream. My breasts kept getting bigger, swelling up till they looked like they were a double FF! My belly started to expand too, till the smallest movement made it jiggle… everything was getting massive! I could feel the air moving through my body, but instead of rushing out of my mouth around the nozzle it just pushed against me from the inside. I kept getting larger and larger, my skin stretching out, my arms getting so large that they stuck straight out to the sides, my breasts blocked my view of the mirror, and I started falling back. I knew, I just knew that once I hit the ground that I would pop! Of course, right when I felt the floor brushing against me, once I felt my skin start to give, that's when I woke up, my pussy wet as hell. I'm hoping for another one just like that! Do you have some of your own balloon fetish stories? Call me anytime for some inflation phone sex to tell me all the dirty details!
Aunt Brenda
1-888-430-2010
Click Here to chat with a phone sex balloon girl!
#inflationfetish #inflationkink #balloonfetish #balloonporn