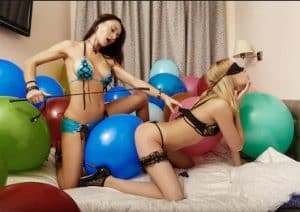 Woah, Jenny, I'm not really into balloon popping but that recording is pretty cool! Maybe when you and Carrie hook up for that hot girl-on-girl balloon sex that you were talking about you could record it. I bet that more than a few of our readers would be all ears for a hot balloon fetish recording like that! Unless… you have already popped that cherry? In which case, the least you could do is tell us about it! Come on, ladies, dish!
As for me, I've been enjoying the calls I have been getting from guys that have found me here on Balloon Fetish Phone Sex. I had a really great call the other day. I just got home and while I was out I picked up a new bag of 16 inch balloons. So when I picked up the phone the guy on the other end told me that he had a three foot balloon that he wanted to inflate for me! Awesome!
So I got to listen while he blew up that big balloon with his pump and then he listed to me huff and puff to blow up three of my new balloons. Pumps are cool for the big balloons like that, there's no doubt that that can be such a fun time, but I like the old fashioned way too. I like the taste on my lips. I wished that sexy balloon lover was there to lick the taste of latex off my lips.
Once we had our balloons blown up it was just a bit of a balloon riding frenzy. I don't want to say too much, but I will say that I had a nice and nasty time with those balloons, one of which I didn't tie off. I like just holding the end tight, sometimes letting some air out, and blowing it up again. I could go on and on but really, you should just call so we can play together.
For the most fun you will ever have with balloons call 1-877-261-0599.
$1.99/minute (10 minute min.) + $2.50 connection fee.
18+ Billed as Madison Enterprise. For your entertainment, only.