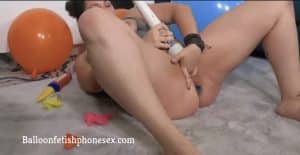 Oh boy, do I have some balloon fetish stories I could share with you!  The feel of an inflated balloon rubbing all over your over-sensitive, very stimulated body is unbelievable.  There's nothing better than the sound of an air-filled balloon as it is pressed and dragged over hard nipples and a throbbing clitty.
Just the thought of latex sex has my pussy dripping already.  I love squeezing a full balloon between my thighs and feeling it squish against my aroused pussy and between my cheeks.  I love to sit on the balloon and bounce up and down as I get myself all worked up.
The wetter my pussy gets the louder the balloon gets as it squelches and the constant thought of that balloon bursting and popping against my body, makes me bounce harder and faster.  The excitement mixed with trepidation makes for a very aroused girl.
I can't help but mix some balloon masturbation in between bounce sessions.  Riding those big balloons makes my pussy so wet that as soon as I touch it with a toy or vibrator, I squirt all over.  I just love the feeling of balloons and latex so much that I have a room full of fun to play with.
And when a balloon all of a sudden bursts and pops against my pussy, I moan like a whore as I cum over and over.  Wanting more and more.  I just can't get enough when it comes to balloons.  I love when I have friends over and I can get one of them to push an uninflated balloon inside my pussy and then blow it up slowly inside me.
Feeling it slowly fill with air as it stretches my pussy and gets bigger inside me, makes me gasp and play with my hard nipples.  Pulling and squeezing them between my fingers, as I whimper in ecstasy.  I just love balloons!
So many colors and sizes to play with.  You can either fill some with your own breath and blow up the balloons by mouth or use helium to make them float and pop even harder and louder when you play with them.  Balloons are never ending fun for a fetish lover like me.
Do you like to play with balloons?  Would you like to play with me?  We could have so much fun with each other and a roomful of balloons.  Just the thought already has me soaked and ready to play.  Pop my pussy with a big balloon and make it explode creamy cummies all over.
Just imagine my excitement when I go to birthday parties.  I have to use every ounce of control to keep from rubbing balloons all over my trembling body.  I always make sure to leave with some balloons.  As soon as I get alone, I start masturbating.  The smell and feel of latex and balloons gets me so worked up that I can't help myself.
So, give me a call today so we can play!  Balloons are the best!
1-888-430-2010